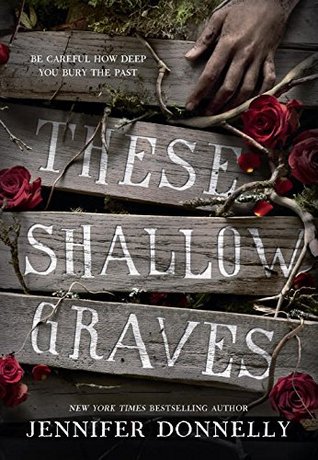 Author
: Jennifer Donnelly
Info
: Random House Delacorte, copyright 2015, 488 pages
Jo Montfort is beautiful and rich, and soon—like all the girls in her class—she'll graduate from finishing school and be married off to a wealthy bachelor. Which is the last thing she wants. Jo secretly dreams of becoming a writer—a newspaper reporter like the trailblazing Nellie Bly.
Wild aspirations aside, Jo's life seems perfect until tragedy strikes: her father is found dead. Charles Montfort accidentally shot himself while cleaning his revolver. One of New York City's wealthiest men, he owned a newspaper and was partner in a massive shipping firm, and Jo knows he was far too smart to clean a loaded gun.
The more Jo uncovers about her father's death, the more her suspicions grow. There are too many secrets. And they all seem to be buried in plain sight. Then she meets Eddie—a young, brash, infuriatingly handsome reporter at her father's newspaper—and it becomes all too clear how much she stands to lose if she keeps searching for the truth. Only now it might be too late to stop.
The past never stays buried forever. Life is dirtier than Jo Montfort could ever have imagined, and the truth is the dirtiest part of all.
~Goodreads Description
When a teenager stands in front of you at the reference desk, hugging a book, and frowning because she doesn't want to give the book back, it's basically a librarian's duty to check out the title. Usually this teen is reading paranormal romances by the armload. I've taken to asking her to read particular titles that I have on my list just to see if they are worthy of my time. She gladly has taken up the challenge. So when said teenager stood in front of me that day, insisting that I read the book, I was a little surprised to find that it was a historical mystery. Just not usually her cup of tea.
While I wasn't hugging the book at the end, it did move toward the very top of my favorites so far in 2017. Why this is my first Jennifer Donnelly title, I don't know...actually, I think I do. The size of her books usually intimidates me. Thankfully I had the audiobook for this one and didn't have to have a constant reminder that I was lugging around an almost 500 page book. This won't, however, be my last Donnelly. If all goes according to plan (which it never does, so I'm not holding my breath), I'll take the rest of her bookography this year.
I think this was the right one for me to start with for one very important reason - it is set toward the turn of the century and sort of reminded me of
Newsies
.
Hopefully that's all you need. If it's not, then 1) you probably haven't watched the 1992 production or recent Broadway release enough or 2) you just have really poor judgement.
In case you need a little more to entice you - Jo dreams of becoming a journalist like the great Nellie Bly. She is working on a particularizing scandalous news article at school when she receives news that her father has committed suicide. Upon returning home, Jo quickly determines that all is not as it seems, and with the help of another budding reporter, the mysterious and street-wise Eddie, goes in search of the truth.
Jo is stubborn, intelligent, feisty for a girl in the late 1800s. She dreams of a life much bigger than the one the world says is appropriate, and she decides to fight for what she wants instead of sitting meekly on the sidelines. While Eddie is a predictable romantic lead, he's also confident in her abilities, and equally stubborn, fighting for his own future and wanting more than the poverty he grew up in. Together they make an awesome team, and my only complaint is that this was a stand-alone. (What did she just say?! Did she just say she wanted a series? Now
that
is scandalous!)
Donnelly writes relatable and exciting historical fiction that is led by fantastic characters that you cheer for from page one. She's a talented storyteller who takes you away to a time and a place without struggle, and I can't wait to read her other titles. (Or listen, cause that's just how I roll these days.)
This one comes highly recommended. And if you read it and feel the need to hug it afterward, go right ahead. There's a teen in my neck of the woods who would appreciate your affection.