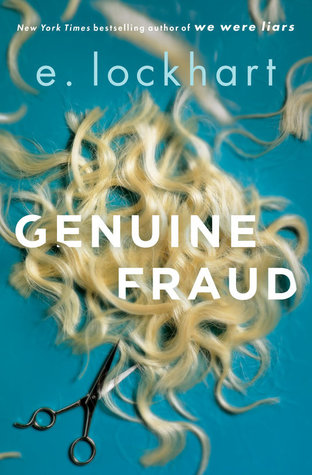 Author
: E. Lockhart
Info: Delacorte Press, copyright 2017, 272 pages
The story of a young woman whose diabolical smarts are her ticket into a charmed life. But how many times can someone reinvent themselves? You be the judge.
Imogen is a runaway heiress, an orphan, a cook, and a cheat. Jute is a fighter, a social chameleon, and an athlete. An intense friendship. A disappearance. A murder, or maybe two.
A bad romance, or maybe three.
Blunt objects, disguises, blood and chocolate. The American dream, superheroes, spies, and villains.
A girl who refuses to give people what they want from her.
A girl who refuses to be the person she once was.
~Goodreads Description
I'm starting to wonder if there is something a little diabolical about E. Lockhart herself. Her last two outings have been a little crazy pants - one ripping at your heartstrings, the other threatening to steal your identity, and both led by unreliable female narrators. Her storytelling has taken a rather creepy turn.
As for Genuine Fraud...it's hard to talk about without giving the whole shebang away, but in simple terms, its a story about two friends, Jule and Imogen, and not wanting the life you're living. And randomly about superheroes.
The story works - mixed up chapter order and all, but despite the mystery, Lockhart doesn't leave a lot of opportunity for the reader to become invested in the characters. They're kept at a distance. I'm sure that's on purpose in some instances to build suspense, but when they're kept at arms distance you don't really care what happens to them or not.
BUT, if you're looking for a quick read that messes with your head just a little bit (including the ending which totally ticked me off), then give this one a whirl. (Or check out Lockhart's We Were Liars...which I thought was better).