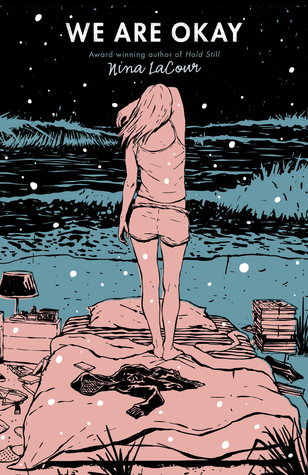 Author
: Nina LaCour
Info
: Dutton Books for Young Readers, copyright 2017, 234 pages
You go through life thinking there's so much you need…
Until you leave with only your phone, your wallet, and a picture of your mother.
Marin hasn't spoken to anyone from her old life since the day she left everything behind. No one knows the truth about those final weeks. Not even her best friend, Mabel. But even thousands of miles away from the California coast, at college in New York, Marin still feels the pull of the life and tragedy she's tried to outrun. Now, months later, alone in an emptied dorm for winter break, Marin waits. Mabel is coming to visit, and Marin will be forced to face everything that's been left unsaid and finally confront the loneliness that has made a home in her heart.
~Goodreads Description
Marin is in mourning - she's mourning the loss of her grandfather, and she's mourning the loss of her old life. Instead of dealing with her loss, she runs away, across country, looking for an out. Thanks to the most understanding stranger of a roommate ever, Marin finds a home for herself in New York City. But now her old life is coming for a visit, and everything she ran away from is catching up with her at last.
I couldn't put my finger on my feelings about this book for a very long while. That's not why it took me so long to write the review, that was just life being life, but it has come into my mind several times since I finished, driving me a little crazy. And then I read a Goodreads review by Cait (Paper Fury), and in one sentence she summed it up perfectly for me - "This was simultaneously really beautifully written and also....really boring." (Thanks, Cait, for the little bit of clarity.)
And I realized that this happens to me a lot, especially with books that get a lot of early press. There is an expectation of quality and popularity with each review. Sometimes I agree. Most of the times I don't. But this one fell in that murky in-between. LaCour is weaver of beautiful words.
"We were miraculous. We were beach creatures. We had treasures in our pockets and each other on our skin."
So pretty and heartfelt. But this was a character driven story that needed just a little more plot. I wanted to like LaCour's characters - she spent a lot of time working on them, but they didn't do anything. There was nothing that really helped me truly understand who they are and what motivated them. There was just a lot of talking and...feeling.
The time spent thinking about this book made me realize it's just not my kind of book. There is an audience, and that audience will have the pleasure of reading a story very well written. And I will be trying out another Nina LaCour eventually (I have just a few titles on my to-be-read list).
I'd love to hear your thoughts on
We Are Okay
!