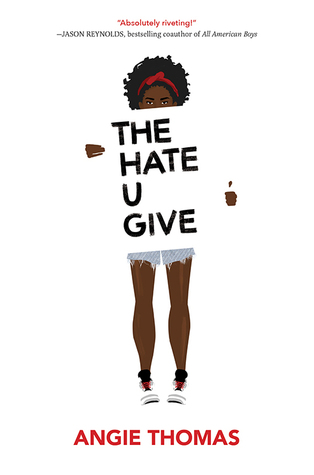 Author
: Angie Thomas
Info
: Balzer & Bray/Harperteen, copyright 2017, 453 pages
S
ixteen-year-old Starr Carter moves between two worlds: the poor neighborhood where she lives and the fancy suburban prep school she attends. The uneasy balance between these worlds is shattered when Starr witnesses the fatal shooting of her childhood best friend Khalil at the hands of a police officer. Khalil was unarmed.
Soon afterward, his death is a national headline. Some are calling him a thug, maybe even a drug dealer and a gangbanger. Protesters are taking to the streets in Khalil's name. Some cops and the local drug lord try to intimidate Starr and her family. What everyone wants to know is: what really went down that night? And the only person alive who can answer that is Starr.
But what Starr does or does not say could upend her community. It could also endanger her life.
~Goodreads Description
The Hate U Give
was a pleasant surprise - a book that received a lot of hype that was actually worthy of the praise. There are many authors who sacrifice character development and plot for a soapbox - intent on ramming an idea or conversation down your throat instead of trusting in the sincerity of the story and the intelligence of the reader to fully understand the importance of their message.
Thomas gets it right with a diverse cast of characters that you come to care a about and story that is difficult to read while remaining genuine. Starr Carter moves between two worlds, but they are both believable worlds - her neighborhood that, despite a history of violence, is filled with compassionate and interesting characters that create a community, and the prep school she attends filled with teens who don't always say or do the right thing and are imperfectly finding their way.
Angie Thomas has created a compassionate story of a girl dealing with loss, a community trying to understand and come to terms with a terrible injustice, and a struggle of loyalty. Starr feels helpless through most of the book until she finds her voice and realizes
that
is the most important weapon she will every possess. As Starr comes to find out, finding your voice can sometimes be easier said than done, but that's what I appreciate about her story. She had to find the strength on her own, and she also learns to let go, even when its a friendship that you've cherished for a long time.
The Hate U Give
was good. It was very good. Thomas could have easily created a cliche story about a hot button topic, but instead she took the time to develop characters and an event that are so much more than they seem. Can't recommend highly enough.