Author
: Betsy Schow
Info
: Sourcebooks Fire, copyright 2015, 345 pages
Fairy Tale Survival Rule #32: If you find yourself at the mercy of a wicked witch, sing a romantic ballad and wait for your prince Charming to save the day.
Yeah, no thanks. Dorthea is completely prince out. Sure being the crown princess of Emerald has its perks - like Glenda Original ball gowns and Hans Christian Louboutin heels. But a forced marriage to the brooding prince Kato is so not what Dorthea had in mind of her enchanted future
Talk about unhappily ever after.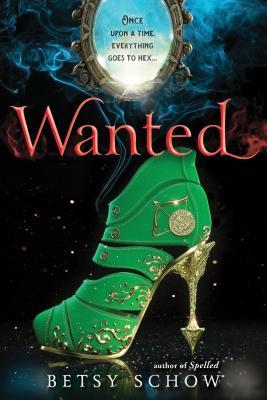 Trying to fix her prince problem by wishing on a (cursed) star royally backfires, leaving the kingdom in chaos and her parents stuck in some place called "Kansas." Now it's up to Dorthea and her pixed off prince to find the mysterious Wizard of Oz and undo the curse...before it releases the wickedest witch of all and spells The End for the world of Story.
~Goodreads Description
Sigh. I adore this series. Sure, it's not the highest quality literature you will ever read, but there's something to be said about a genuinely fun romp through a land of imagination. In fact, this is the kind of story I would like to write - a funny, creative story that is both familiar and new.
Schow turns the Wizard of Oz on its head with crown princess Dorothea, a stuck-up snob of a royal who is haunted by a curse that promises the destruction of her entire kingdom. In a fit of teen angst, Dorthea wishes on a wishing star and sends the world of Story into complete chaos. In an attempt to fix magic itself, she faces a number of familiar individuals, finds love, and causes a substantial amount of trouble.
Schow offers some cheap, predictable thrills, but weaves in hilarious dialogue that doesn't go too kitschy, fun-loving characters, and enough adventure to keep the story moving at a steady pace. The second in the series picks up almost immediately after the first, switching focus to one of Dorthea's sidekicks, Rexi, daughter of Robin Hood, in a surprising turn of events.
After all of the heavy-handed realistic fiction I've been reading this year, Betsy Schow was a breath of fresh air, getting me back to my fantasy-loving reading tastes. It also stirred in me a desire to get writing again. Whether or not that actually happens has yet to be seen, but for now I'm content to dream of storybook lands and wait patiently for book three.