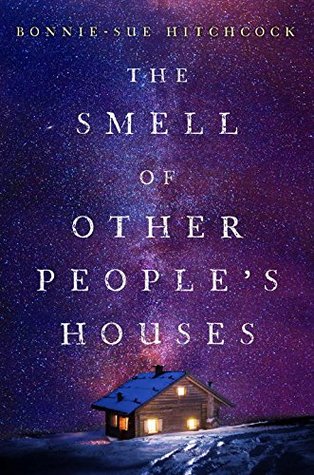 Author:
Bonnie-Sue Hitchcock
Info:
Wendy Lamb Books, copyright 2016, 240 pages
In Alaska, 1970, being a teenager here isn't like being a teenager anywhere else. Ruth has a secret that she can't hide forever. Dora wonders if she can ever truly escape where she comes from, even when good luck strikes. Alyce is trying to reconcile her desire to dance, with the life she's always known on her family's fishing boat. Hank and his brothers decide it's safer to run away than to stay home—until one of them ends up in terrible danger.
Four very different lives are about to become entangled.
~Goodreads Description
Full disclosure...I picked this one up because I liked the title. And while the title made sense after finishing the book, I kind of wanted it to be something entirely different. Not quite sure what, but something more"smelly". (Which now that I see it written sounds totally weird.)
It's Alaska in 1970 (seemingly for the sole fact that some of the drama is wrapped up around the territory entering statehood. If that element wasn't there, the reader could easily believe the teens were growing up in 2017.) You've got Ruth who is being raised by her strict grandmother and seeks comfort and love from the popular boy who smells like cedar. Dora is the recent winner of cash prize which is extremely dangerous considering the unpredictability and violence of her home. Alyce dreams of dancing but must forfeit practice and recitals to work on her father's fishing boat in the summer. And Hank who steals away into the night with his brothers to escape home. Hitchcock seamlessly weaves their lives together in a convenient yet beautiful way (and in short order in only 240 pages.)
The Alaska setting was much different than anything contemporary that I've read before. There's a wild, rugged element that weaves its way into the lives of the teenagers that seems unpredictable and at times violent. Hitchcock also explores elements of indigenous cultures and its juxtaposition to western life and demands. But at the heart of the book are these four teenagers who are attempting to overcome their pasts and are learning to fight for themselves and the people they love.
It all just felt a little rushed. Some characters got backstory, others didn't. I would just get into a characters story and the perspective would switch, and I felt like I was starting back at square one. I liked each teen and wanted to spend a little more time with each of them.
This wasn't my favorite book of the year, but one that's definitely worth exploring. Bonnie-Sue Hitchcock has a unique voice, and it's obvious that she cares deeply about the characters she has created.