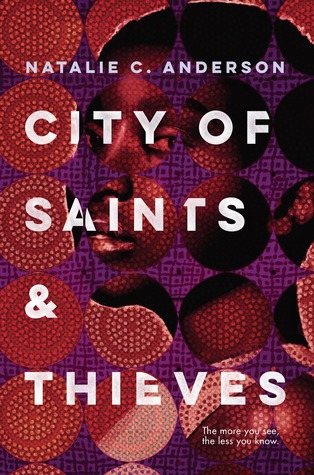 Author
: Natalie C. Anderson
Info
: G.P. Putnam's Sons Books for Young Readers, copyright 2017, 401 pages
In the shadows of Sangui City, there lives a girl who doesn't exist. After fleeing the Congo as refugees, Tina and her mother arrived in Kenya looking for the chance to build a new life and home. Her mother quickly found work as a maid for a prominent family, headed by Roland Greyhill, one of the city's most respected business leaders. But Tina soon learns that the Greyhill fortune was made from a life of corruption and crime. So when her mother is found shot to death in Mr. Greyhill's personal study, she knows exactly who's behind it.
With revenge always on her mind, Tina spends the next four years surviving on the streets alone, working as a master thief for the Goondas, Sangui City's local gang. It's a job for the Goondas that finally brings Tina back to the Greyhill estate, giving her the chance for vengeance she's been waiting for. But as soon as she steps inside the lavish home, she's overtaken by the pain of old wounds and the pull of past friendships, setting into motion a dangerous cascade of events that could, at any moment, cost Tina her life. But finally uncovering the incredible truth about who killed her mother—and why—keeps her holding on in this fast-paced nail-biting thriller.
~Goodreads Description
Wowza. (I don't think I've ever started a review with wowza. I feel like maybe I should make one word comments a thing. They might not all have the same kind of flair and oomph as "wowza," but it could be fun trying to choose just the right word for each book. Sorry. Easily distracted. Anyhoo...)
Quick summary of the above summary. Tina is looking to avenge her mother by going after the man she blames for her death, but the truth is far more dangerous and devastating than she could have ever imagined.
Back to that "wowza" thing - 1) I do believe this might have been the first book I've read set in Kenya. Not sure why I haven't read any others, but I found the culture, and the people, and the Goondas fascinating. 2) Tina is a fighter, and you've got to love a fighter. She's smart, quick, and determined. Sure she's also filled with rage and vengeance, but she's also filled with heart and compassion. Loved her. 3) The writing was spectacular. Clues were shared at just the right moment, the tension built at a steady pace, and the beauty of the language matched the strength and uniqueness of the characters. And 4) This book legit played out like a movie - and the right kind of movie, not some big-budget hack that caters too much to what the crowd wants and sacrifices story.
I've read some books I've really liked this year, but I haven't read a whole lot that have impressed me. Anderson impressed me. She wrote a sophisticated thriller led by teenagers in a country plagued by instability and violence. And within all of that she has created characters that you come to care and worry about. So good. So very good.