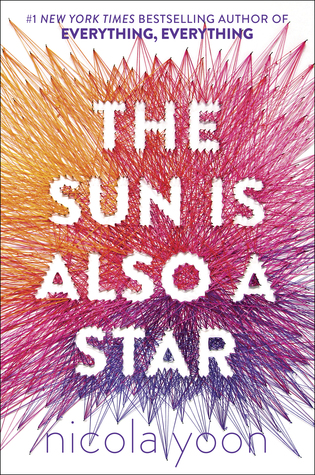 Author
: Nicola Yoon
Info
: Delacorte Press, copyright 2016, 348 pages
Natasha: I'm a girl who believes in science and facts. Not fate. Not destiny. Or dreams that will never come true. I'm definitely not the kind of girl who meets a cute boy on a crowded New York City street and falls in love with him. Not when my family is twelve hours away from being deported to Jamaica. Falling in love with him won't be my story.
Daniel: I've always been the good son, the good student, living up to my parents' high expectations. Never the poet. Or the dreamer. But when I see her, I forget about all that. Something about Natasha makes me think that fate has something much more extraordinary in store—for both of us.
The Universe: Every moment in our lives has brought us to this single moment. A million futures lie before us. Which one will come true?
~Goodreads Description
This one had been sitting on my bookshelf for quite awhile after it came in the mail from Uppercase (have I mentioned how fun book mail is!) And then it goes and wins the prestigious title of Printz Honor book, so I thought I'd finally get around to it.
Natasha is an undocumented immigrant from Jamaica who is fighting desperately to stay in the city she knows and loves. Daniel is a Korean American whose family expectations do not align with his own hopes and dreams. One day, these two teenagers meet on the streets of New York City - one filled with science and logic, the other with poetry - and the possibility of a million futures lies before them.
I had the pleasure of meeting Nicola Yoon at YallFest a few years ago. It's always a little strange meeting an author when you haven't yet read any of their books. But she was generous with a smile and extremely kind. Not so strangely, that same compassion and gentility comes across in her books.
Natasha is a force to be reckoned with. She knows her mind, and despite the battles she faces at home, she's willing to fighter for her family and her future. While Daniel appears soft on the outside, inside he finds a strength and courage he didn't even know he was capable of feeling. Meeting Natasha opens Daniel up to endless possibilities, and his character and thoughtfulness shine through during their day together.
This is a character driven story, and Yoon has created characters that are diverse and complicated and lovely. There's a little something in each of the teens that you an identify with, and it is a joy and heartbreak watching them come together throughout their day. It's not lust at first sight. It's conversation and communication and openness with one another that solidifies their feelings in the end.
One of my favorite aspects of the book is the extra narration. On occasion, Yoon follows individuals that cross path with Natasha and Daniel. It's kind of like
Stranger Than Fiction
(one of my all-time favorite movies) meets
Amelie
(another one of my all-time favorite movies), that shows how the moments in other people's lives led to that day, bring those two teens together. I also found it had the opposite effect as well - making the world feel big and open. That the world didn't revolve around those two individuals, but that they were a part of something big and grand.
I was surprised how much I enjoyed this - not sure why - but in the list of all of the contemporary fiction I've read this year already it's very near the top. Yoon's voice is relatable and familiar yet exciting and new. And I absolutely adored the characters she created.
(And the cover is gorgeous :) )