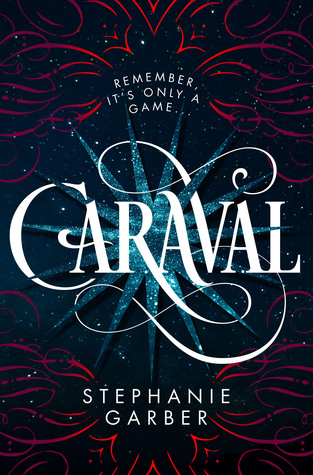 Author
: Stephanie Garber
Info
: Flatiron Books, copyright 2017, 407 pages
Whatever you've heard about Caraval, it doesn't compare to the reality. It's more than just a game or a performance. It's the closest you'll ever find to magic in this world . . .
Scarlett has never left the tiny island where she and her beloved sister, Tella, live with their powerful, and cruel, father. Now Scarlett's father has arranged a marriage for her, and Scarlett thinks her dreams of seeing Caraval, the far-away, once-a-year performance where the audience participates in the show, are over.
But this year, Scarlett's long-dreamt of invitation finally arrives. With the help of a mysterious sailor, Tella whisks Scarlett away to the show. Only, as soon as they arrive, Tella is kidnapped by Caraval's mastermind organizer, Legend. It turns out that this season's Caraval revolves around Tella, and whoever finds her first is the winner.
Scarlett has been told that everything that happens during Caraval is only an elaborate performance. But she nevertheless becomes enmeshed in a game of love, heartbreak, and magic with the other players in the game. And whether Caraval is real or not, she must find Tella before the five nights of the game are over, a dangerous domino effect of consequences is set off, and her sister disappears forever.
~Goodreads Description
Shamefully, this remained on my Goodreads "currently reading" shelf far longer than it should have. It actually haunted me every time I logged on, making me feel guilty and shameful that I hadn't finished yet. Oh the woes of a book nerd.
But I did finish! And I enjoyed it! (Look at me being positive! No Debbie Downer to be found in this here review! Go me!)
Scarlett started writing to Legend, the master of ceremonies of the mysterious and magical Caraval, when she was a young girl. She pleaded with him to bring the performance to her small island, but letter after letter remained unanswered. But then, many years later, she received an invitation which was quickly followed by a whirlwind of activity in which Scarlet is kidnapped by one guy, her sister is kidnapped by another guy, and the game begins.
Things I like 1) mysterious carnival like dream places 2) mysterious loner dudes and 3) mysterious masterminds who could be good but in all likelihood could also be bad. Done. Done. And done. Garber jumps immediately into the action and stars building a world that is both interesting and dangerous. It reminded me a lot of Erin Morgenstern's
The Night Circus
with the setting coming alive as a another, equal parts dark and magical.
It was a little disappointing that both Scarlet's life on the island with her horrible father, and time spent in this fantastic game setting, was focused on the need and convenient want for a gentleman. I wanted her to be a little stronger and more independent than she was, but given her background her actions were easily explained.
There are a lot of moving parts, a lot of characters to keep track of, and a lot of plot to be sorted out. I was confused on occasion, but Garber always found a way to bring me back into the fold. The action starts right away and doesn't stop until the very end. And I was sad when it was done.