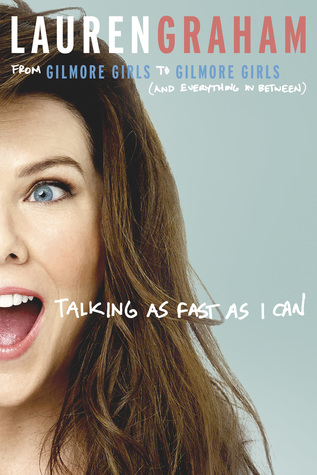 Author
: Lauren Graham
Info
: Ballantine Books, copyright 2016, 224 pages
In this collection of personal essays, the beloved star of Gilmore Girls and Parenthood reveals stories about life, love, and working as a woman in Hollywood—along with behind-the-scenes dispatches from the set of the new Gilmore Girls, where she plays the fast-talking Lorelai Gilmore once again.
In Talking as Fast as I Can, Lauren Graham hits pause for a moment and looks back on her life, sharing laugh-out-loud stories about growing up, starting out as an actress, and, years later, sitting in her trailer on the Parenthood set and asking herself, "Did you, um, make it?" She opens up about the challenges of being single in Hollywood ("Strangers were worried about me; that's how long I was single!"), the time she was asked to audition her butt for a role, and her experience being a judge on Project Runway ("It's like I had a fashion-induced blackout").
In "What It Was Like, Part One," Graham sits down for an epic Gilmore Girls marathon and reflects on being cast as the fast-talking Lorelai Gilmore. The essay "What It Was Like, Part Two" reveals how it felt to pick up the role again nine years later, and what doing so has meant to her.
Some more things you will learn about Lauren: She once tried to go vegan just to bond with Ellen DeGeneres, she's aware that meeting guys at awards shows has its pitfalls ("If you're meeting someone for the first time after three hours of hair, makeup, and styling, you've already set the bar too high"), and she's a card-carrying REI shopper ("My bungee cords now earn points!").
~Goodreads Description
I'm a
Gilmore Girls
fan. I wouldn't necessarily refer to myself as a "super fan", but I've made my through the series twice, and I eagerly awaited the arrival of the reboot episodes. I'm team Logan, then Jess, then Dean. I became obsessed with audiobooks read by Edward Herrmann because I like the idea of Richard Gilmore reading me a story. And I would move to Stars Hollow in a second if such a place really existed because I'm pretty sure, with my weirdness, I could fit right in.
That's why I picked this book up. I knew, at the time, very little about Lauren Graham other than the few parts I had seen her play. I didn't understand her nasty Santa fetish in
Bad Santa,
and I couldn't take the crying (mine, not hers) over
Parenthood
so I stopped watching about midway through the first season.
Now, knowing a little more about her, I kind of like her. I like to believe she talks just as fast as Lorelei (and if you turn up the speed on the audiobook, she does!). She's an excellent storyteller that brings across her heart for what she does and the people she has populated her life with. She doesn't seem like a celebrity, which is refreshing, and she gets a little spazzy like the rest of us.
Her reminiscing (and commenting on hair and style choices) about the first seven years of
Gilmore Girls
makes you want to watch the show all over again, and while the section is brief, I fully brings across just how exciting it was for her to return to the role. She doesn't do a lot of name-dropping (thank goodness) and seems genuinely excited to share how much she enjoys including the people she loves in everything she does.
A fun, quick read with a fun, thoughtful woman.