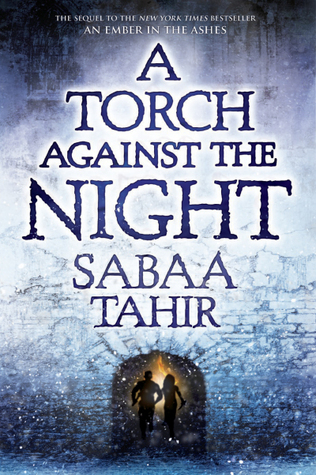 Author
: Sabaa Tahir
Info
: Razorbill, copyright 2016, 452 pages
Elias and Laia are running for their lives. After the events of the Fourth Trial, Martial soldiers hunt the two fugitives as they flee the city of Serra and undertake a perilous journey through the heart of the Empire.
Laia is determined to break into Kauf - the Empire's most secure and dangerous prison - to save her brother, who is the key to the Scholars' survival. And Elias is determined to help Lai succeed, even if it means giving up his last chance at freedom.
But dark forces, human and otherworldly, work against Lai and Elias. The pair must fight every step of the way to outsmart their enemies: the bloodthirsty Emperor Marcus, the merciless Commandant, the sadistic Warden of Kauf, and most heartbreaking of all, Helene - Elias's former friend and the Empire's newest Blood Shrike.
Bound to Marcus's will, Helene faces a torturous mission of her own - one that might destroy her: find the traitor Elias Veturius and the Scholar slave who helped him escape...and kill them both.
~Goodreads Description
It's always difficult a book that has been recently released. You don't want to give too much away. While I'm not opposed to spoilers, I understand others aversion to them. There's one, maybe two spoilers that I'll try to stay away from. One in particular that took me by surprise. (It should be mentioned that I usually get so invested in a story that I start to become very unobservant - then BOOM! What just happened?!)
As the description about describes, Elias and Laia are on the run, attempting to escape Serra with their lives, and on a mission to reach the prison at Kauf to rescue Laia's brother. That, of course, is easier said than done. The Martial army, the Commandant, and Helene, the Emperor's new Blood Shrike, are right on their tail.
I think I'm going to leave it there. This is a journey book, and if you like journey books, you'll like this one. I don't mind journey books, but with all of the action of
An Ember in the Ashes
, this felt a smidgen slow. Just a smidgen. Sabaa Tahir is that good. Seriously. This story, while filled with intrigue and suspense, is a character story. And you really fall in love with the characters.
The Commandant is terrifying. She is quickly traveling up the ranks of my most feared fictional villains. She's ruthless, conniving, and violent.
Elias is selfless. He has a big heart, despite his lethal abilities, and follows through (to a fault) on promises. While I don't have a clear picture in my head of what he looks like, I know he's ruggedly handsome :) (A reader just knows these things.)
Laia almost lost me in this book. She was on the verge of making me mad, and unsurprisingly it was because of the love triangle between Keenan and Elias. So often in teen fiction a girl becomes a damsel in distress when a boy is around. Laia's fierce attitude, unwavering courage, and intent focus on her brother almost fell apart, but like a boss, Tahir calls attention to it. It was intentional! And while it doesn't really resolve itself positively, Laia comes out of it with a new "spark". :)
As series sequels go,
A Torch Against the Night
is excellent. The story progresses with additional obstacles thrown into the mix. The characters continue to develop, moving toward who they will need to become for a final resolution. And it's just exciting (despite the smidgen of slowness).
On a sidenote, I listened to the audiobook. That is how I devoured the first, which means it was the only way I could devour the second. Plus, Fiona Hardingham is a reader, and Fiona Hardingham can do no wrong. Hilariously, the Warden at Kauf reminded me A LOT of the Six Fingered Man in the Princess Bride. The cadence they chose to use for his voice made him both creepy and intriguing.
I can't wait for book three!