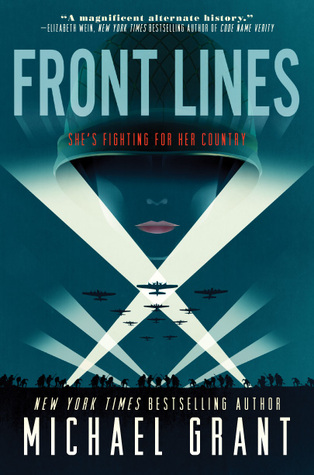 Author
: Michael Grant
Info
: Katherine Tegen Books, copyright 2016, 576 pages
1942. World War II. The most terrible war in human history. Millions are dead; millions more are still to die. The Nazis rampage across Europe and eye far-off America.
The green, untested American army is going up against the greatest fighting force ever assembled—the armed forces of Nazi Germany.
But something has changed. A court decision makes females subject to the draft and eligible for service. So in this World War II, women and girls fight, too.
As the fate of the world hangs in the balance, three girls sign up to fight. Rio Richlin, Frangie Marr, and Rainy Schulterman are average girls, girls with dreams and aspirations, at the start of their lives, at the start of their loves. Each has her own reasons for volunteering. Not one expects to see actual combat. Not one expects to be on the front lines.
Rio, Frangie, and Rainy will play their parts in the war to defeat evil and save the human race. They will fear and they will rage; they will suffer and they will inflict suffering; they will hate and they will love. They will fight the greatest war the world has ever known.
~Goodreads Description
What if? What if women had been eligible for the draft in WWII? What if they had been sent to the front lines? What if they had been trained and served alongside the brave young men who chose to put on a uniform and fight for their country? What if?
Michael Grant explores the "what if" in his newest series starter,
Front Lines
. This was my first Grant novel, and it won't be my last. As always...I wish I would have waited for the series to be complete before I started. Now I have to wait for book two while our three female protagonists are fighting for their lives and country in a war. So hard.
The story bounces between three young women, as the description states, who found themselves joining the ranks for their own reasons. One young woman eager to avenge her sister's death and the desire to see if she has the courage to risk her life for her country. One young woman with the uncanny ability to learn multiple languages and an eye for details. And one young woman with an impossible dream eager to learn and heal. Grant leaves the narrator a mystery, starting the story in a hospital, surrounded by the wounded scarred by the images of war.
I enjoyed hearing about all three women, but the story was definitely swayed toward Rio, leaving me wondering if that was by design...will the other women play a more prominent role in installments to come? They each represent a different aspect of the war. One the soldier. One the spy. One the medic. At the end of the story, their lives begin to intertwine in a natural way.
Front Lines
felt real. I had to remind myself on occasion that women weren't, in fact, eligible for the draft during WWII. I had to remind myself that they never saw combat in tanks or foxholes, gun on their shoulders, taking aim at the enemy. While set during the backdrop of WWII, it's not
really
a war story. It's a character driven novel. Grant is telling the story of three lives that just happen to be going to war. And in the end, it's a love story. Not a romantic story. But a way to praise the ingenuity, courage, and emotional capacity of women. So in that sense, I suppose this is a very feminist story. One without a soap box. Without an agenda.
And that's why I enjoyed it so much. Strong female characters can also be imperfect and vulnerable. They can be capable yet accepting of help. They can be scared and intentional. They can be quick witted and empathetic. They can be beautiful in those moments of imperfection.
Whether on the battlefield or serving as pilots, mechanics, radio operators, or nurses, the truth is that women played an integral role in the allied victory. Grant's story might be fiction, but it has heart, and it's a story I want to see through to the end.
You might also like:
Code Name Verity
by Elizabeth Wein
Flygirl
by Sherri L. Smith
Between Shades of Gray
by Ruta Sepetys
Save
Save
Save
Save