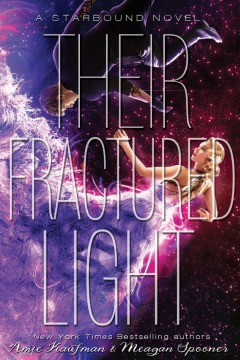 Author
: Amie Kaufman and Meagan Spooner
Info
: Disney-Hyperion, copyright 2015, 425 pages
A year ago, Flynn Cormac and Jubilee Chase made the now infamous Avon Broadcast, calling on the galaxy to witness for their planet, and protect them from destruction. Some say Flynn's a madman, others whisper about conspiracies. Nobody knows the truth. A year before that, Tarver Merendsen and Lilac LaRoux were rescued from a terrible shipwreck - now, they live a public life in front of the cameras, and a secret life away from the world's gaze.
Now, in the center of the universe on the planet of Corinth, all four are about to collide with two new players, who will bring the fight against LaRoux Industries to a head. Gideon Marchant is an eighteen-year-old computer hacker - a whiz kid and an urban warrior. He'll climb, abseil and worm his way past the best security measures to pull off onsite hacks that others don't dare touch.
Sofia Quinn has a killer smile, and by the time you're done noticing it, she's got you offering up your wallet, your car, and anything else she desires. She holds LaRoux Industries responsible for the mysterious death of her father and is out for revenge at any cost.
When a LaRoux Industries security breach interrupts Gideon and Sofia's separate attempts to infiltrate their headquarters, they're forced to work together to escape. Each of them has their own reason for wanting to take down LaRoux Industries, and neither trusts the other. But working together might be the best chance they have to expose the secrets LRI is so desperate to hide.
~Goodreads Description
The conclusion. The grand finale. The many pieces coming together to form a beautiful, cautionary tale about the consequences of seeking power and dangers of oppression. I told you, people. I told you it was all going to make sense in the end. The bouncing between characters - the jumping between planets - the whispers...it all (well mostly) made beautiful sense (generally sensible) in the end.
(So the parenthetical commentary...let me explain. No, there is too much. Let me sum up (got distracted there thinking about the Princess Bride. Is it inappropriate to do a parenthetical comment inside of a parenthetical comment?) Back to the explaining - I found the end a wee bit confusing. I mean, I mean, I knew what was going on, but the details eluded me a bit.)
We leave Flynn and Jubilee as ambassadors on Avon, defending the survival of their planet, and head to Corinth for this final installment. We met Sofia back in
This Shattered World
, her father meeting an untimely and horrific death. She has been hopping around the galaxy, trying to escape the Knave of Hearts, a hacker that seems set on finding her and uncovering her true identity. She is dead set on taking down LaRoux Industries at an cost to avenge her father. In one such attempt she meets Gideon Marchant, a hacker with a secret. Gideon has his own reasons to hate LaRoux. Together they scheme and strategize a way to bring down the mogul. And as the entire cast of characters come together, they realize they are stronger together than they ever were apart.
I didn't really like Sofia has much as I came to like Jubilee and Lilac. Not sure why. She seemed a bit whinier, a bit less self-sufficient despite her abilities to con people out of their money. Or maybe it was her stubborn distrust of everyone and an almost tiring inner-dialogue about her feelings toward Gideon. Gideon, on the other hand, I liked. He was compassionate and thoughtful, vulnerable yet strong.
About halfway through the book, I realized that it reminded me a lot of Marissa Meyer's
Lunar Chronicles
. Not in plot, but design. Each book a new setting and list of characters, and in the end everyone and everything coming together for the ultimate climax. And I realized that I like this format. It keeps the reader in invested. The fun is waiting to see how everything fits, hoping you caught all of the little intricacies that make the ending worth it.
This series is very heavily character driven. The authors introduce you to a varying group of personalities, and they put them in a very extraordinary situation. They do get to space again...briefly...and I enjoyed the conversation about imperialism and oppression. Not sure if that is what they were intending the conversation to be about, but that's where my head went.
This series is worth the read. It's fun, romantical, and thoughtful. And it fills the time until Kaufman's
Illuminae
sequel (
Gemina
) arrives in October.
Save
Save