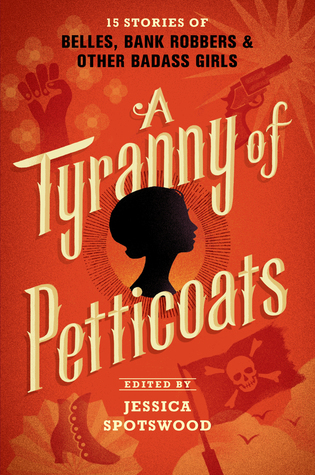 Author
: Jessica Spotswood (editor)
Info:
Candlewick Press, copyright 2016, 368
Criss-cross America — on dogsleds and ships, stagecoaches and trains — from pirate ships off the coast of the Carolinas to the peace, love, and protests of 1960s Chicago. Join fifteen of today's most talented writers of young adult literature on a thrill ride through history with American girls charting their own course. They are monsters and mediums, bodyguards and barkeeps, screenwriters and schoolteachers, heiresses and hobos. They're making their own way in often-hostile lands, using every weapon in their arsenals, facing down murderers and marriage proposals. And they all have a story to tell.
~Goodreads Description
A Tyranny of Petticoats
is a great title. Seriously. Great title. There's a pirate flag on the cover and a cool silhouette, and some weaponry. The cover basically has it going on in a mighty enticing way. (I feel like I might have gone a step too far there. Did I go a step too far? Do we really care if I did? Or at the very least can we just pretend that all is cool?)
Basically what we have here are fifteen great short stories about strong, independent, sometimes deadly fictional women of history. Each is based on research and fact with fascinating explanations that delve into the writer's head and explain what sparked the ideas that came together in a wonderful compilation of stories. There's a little bit of everything. There's the wild west, African American female pilots, Hollywood starlets, and psychics to name a few. Something for everyone.
There are two kinds of books of short stories that you might come across at your library or local bookstore (there might be more, I'm not really an expert, more a newbie short story connoisseur but we're just going to follow this train of thought through). There's the single author who has penned several stories that usually fit around a pre-determined theme and form a cohesive whole. And then there is the edited multi-author compilation that also usually fits around a specific theme. This is the latter.
I've noticed that each has some pros and cons. While I have found that the single-author approach seems more put together, planned, there is the problem that arises when you don't like the first story - slim chance you're going to want to continue to read :) The multi-author approach, on the other hand, gives you the variety of penmanship but sometimes seems awkwardly put together, like some of the stories don't quite fit.
And that's where I ended with
A Tyranny of Petticoats
. There were some stories I really loved, and when I wasn't crazy about a particular story, I could move on to a new author with a fresh new take on history. But at the end, some seemed a bit out of place, not quite fitting in the whole.
Overall, a pleasant read. It didn't surprise me that my favorites were from some much beloved authors that I adore - Marissa Meyer, Elizabeth Wein, Andrea Cremer. The undercurrent of kick-butt women was absolutely delightful, and definitely worth picking up.