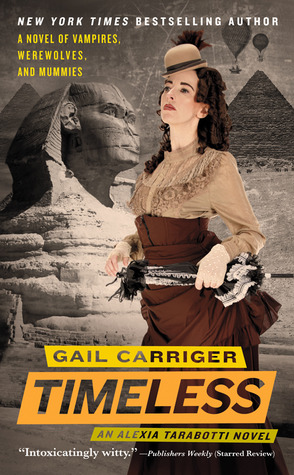 Author:
Gail Carriger
Info:
Orbit, copyright 2012, 341 pages
Alexia Tarabotti, Lady Maccon, has settled into domestic bliss. Of course, being Alexia, such bliss involves integrating werewolves into London High society, living in a vampire's second best closet, and coping with a precocious toddler who is prone to turning supernatural willy-nilly. Even Ivy Tunstell's acting troupe's latest play, disastrous to say the least, cannot put a dampener on Alexia's enjoyment of her new London lifestyle.
Until, that is, she receives a summons from Alexandria that cannot be ignored. With husband, child and Tunstells in tow, Alexia boards a steamer to cross the Mediterranean. But Egypt may hold more mysteries than even the indomitable Lady Maccon can handle. What does the vampire Queen of the Alexandria Hive really want from her? Why is the God-Breaker Plague suddenly expanding? And how has Ivy Tunstell suddenly become the most popular actress in all the British Empire?
~Goodreads Description
I'm not going to lie. I'm just a wee bit sad this is the last book in the series. Yes, I know the tale continues with the Custard Protocol, but it won't be the same. Alexia won't be the feisty protagonist, and Lord Maccon won't be gruffly trying to keep her alive.
Prudence has been born, and she comes with one nifty surprise - she has so much soul that she turns into whatever supernatural creature she comes into contact with. For a parent trying to wrangle a toddler, these "special" gifts can be a bit trying. When the Beta of the Kingair pack returns to Egypt, investigating the preternatural mummy that wreaked havoc way back in
Changeless,
they realize that the case isn't quite solved. Then word arrives that Alexia and Prudence have been summoned by the Queen of the Alexandria hive, and our favorite group prepare for a trip.
I've spoken about the well-written, diverse characters in the past. Not only has Carriger paid great attention to her main protagonists (and antagonists), but she spent time fully flushing out the many secondary characters that are sprinkled throughout the series. The world building is equally impressive. Taking a setting we're familiar with and flipping it on its head is no easy task. An author has to work within the confines of reality (despite the supernatural elements) as opposed to creating a world where the characters may behave according to their every whim.
There are a lot of moving parts in this series. You have the werewolf packs steeped in history and family drama, the vampire hives entrenched in society, a ghostly population that haunts the streets, and London being London. Often in series, especially series this long, I've found that author's tend to introduce and then promptly ignore, leaving the reader wondering why they bothered in the first place. I never had that feeling with Carriger's writing. Characters and plot points were introduced and fully attended to throughout the books.
Have mentioned that the books are just fun? Because they are. This isn't "literary" fiction with deep prose and well structured lessons and conversations. This is escapism fiction, and well-written escapism at that. The dialogue is quick and witty, and the storyline intriguing and thrilling. It's just the kind of story I will return to from time to time when I need to sail through the ether on a dirigible.