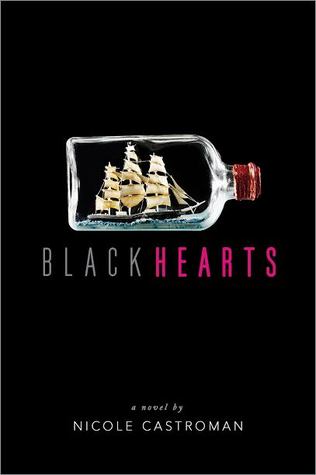 Author
: Nicole Castroman
Info
: Simon Pulse, copyright 2016, 384 pages
Blackbeard the pirate was known for striking fear in the hearts of the bravest of sailors. But once he was just a young man who dreamed of leaving his rigid life behind to chase adventure in faraway lands. Nothing could stop him—until he met the one girl who would change everything.
Edward "Teach" Drummond, son of one of Bristol's richest merchants, has just returned from a year-long journey on the high seas to find his life in shambles. Betrothed to a girl he doesn't love and sick of the high society he was born into, Teach dreams only of returning to the vast ocean he'd begun to call home. There's just one problem: convincing his father to let him leave and never come back.
Following her parents' deaths, Anne Barrett is left penniless and soon to be homeless. Though she's barely worked a day in her life, Anne is forced to take a job as a maid in the home of Master Drummond. Lonely days stretch into weeks, and Anne longs for escape. How will she ever realize her dream of sailing to Curaçao—where her mother was born—when she's stuck in England?
From the moment Teach and Anne meet, they set the world ablaze. Drawn to each other, they're trapped by society and their own circumstances. Faced with an impossible choice, they must decide to chase their dreams and go, or follow their hearts and stay.
~Goodreads Description
Goodness gracious, I wanted to like this book. An origin story for Blackbeard? Yes, please! But alas, it was not what I was expecting, nor was it a pleasant surprise.
Anne is a servant in the home of a rich merchant. Teach is the son of the rich merchant and betrothed to a young woman he has known since childhood. After a year away at sea, Teach is home and has decided that he doesn't want the life his father has mapped out for him. He wants Anne, and Anne was freedom. They both want freedom.
I'm a bit over love (or lust???) at first site. A girl assaults you in the market before you come to realize that she is your father's servant and all the sudden you love her. Maybe I just felt a little mislead after finishing the book. I saw Blackbeard, thought
pirates!
, and got a little too excited. It's an origin story. Castroman is working up to the pirates, or I assume she is since this is book number one in a series. But it needed more.
And I needed to fall in love with the characters. I needed to love Teach and root for him as he struggles with his overbearing father in an attempt to carve his own path in life. And I needed to love Anne and root for her as she reveals her true identity and goes in search of the life she has always dreamed of. But I didn't. Teach might love Anne, but he has no qualms with the state of servitude in his own home. And his treatment of his betrothed, despite what you come to find out about her in the end, is pretty awful. Sure, she seems spoiled, but the reader only gets to see her through the eyes of two characters who don't want to like her, and at the end (without giving too much away), you are meant to think he was justified in his actions. But maybe it was his coldness toward her that led her to the final outcome. Maybe it wasn't inevitable.
As for Anne - she could have changed my mind about the story. She could have remained independent and stubborn. But she doesn't. She falls for the boy who is cheating on his betrothed. And the merchant father was the worst. Literally (my teens are rubbing off on me in their overuse of this word) the worst. The man has no heart. And he needs a heart. I wanted him to have a heart.
I think I just wanted a different story. It wasn't poorly written, but it wasn't what I wanted it to be. Especially since there were only a few poor pirates present only for the length of a sentence or two.
Maybe I'll read the next. Maybe I'll find the pirates I'd been waiting for. Time will tell.
Until then, maybe I'll re-read
Pirates!
by Celia Rees. Now that's a great pirate story :)