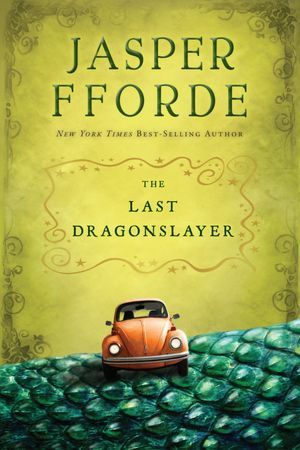 In the good old days, magic was indispensable—it could both save a kingdom and clear a clogged drain. But now magic is fading: drain cleaner is cheaper than a spell, and magic carpets are used for pizza delivery. Fifteen-year-old foundling Jennifer Strange runs Kazam, an employment agency for magicians—but it's hard to stay in business when magic is drying up. And then the visions start, predicting the death of the world's last dragon at the hands of an unnamed Dragonslayer. If the visions are true, everything will change for Kazam—and for Jennifer. Because something is coming. Something known as . . . Big Magic.
Jasper Fforde's storytelling is unique, special, wordy, sarcastic, witty, and brilliant. If you can't tell, I'm a fan. A big fan. The Eyre Affair is by far one of the most original tales I have ever read. So when I heard that Fforde had written a children's story, I was excited and maybe a bit hesitant. Could his sharp, smart writing translate to a younger crowd?
The Awesome
Yes. Yes it absolutely can. Jennifer Strange is a spitfire fifteen year old who hasn't let the circumstances of her orphaned life get her down. She's running Kazam Mystical Arts Management, trying to keep a number of has-been wizards in line, and mentoring a new indentured servant from the Sisterhood. Things are awful as usual, until, of course, she finds out she's the Last Dragonslayer. Dragonslayer...which implies dragons...which I kind of love. I especially like nice dragons, sorry to spoil, but when you can breathe fire, fly, and are deeply philosophical, that's pretty darn awesome. There's also wizards, and a Volkswagen, and indestructible slayer mobiles, and some weird, frightful, gentle creature known as a quarkbeast. So, yeah, lots of awesome.

The Not So Awesome
It wasn't filled with all awesome though. While I love Fforde's writing style, sometimes he can be very wordy...or maybe it's the fact that he's British and I don't always understand the words he's using. I'm not sure if a young reader would be able to keep up. It might make a fun read aloud though. There were several characters that I would have liked to have gotten to know a little better, but hey, guess what! another series, so that might explain why there were several mentions but little context. And things started to feel a little rushed. There was a nice build up, and then we were running nonstop with Jennifer, and then it was just over.
Despite the moments of not so awesome, the books is still filled with destiny, loyalty, courage, morality, and of course, commercialism (a common theme in J.F.'s works). Fforde writes with his usually punch and creates a world where the courage of one secures the fate of many. Sometimes it's hard doing the right thing, especially when the world is standing in your way. Strange is a powerful female protagonist, and the world is just real enough that it really brings this fantasy to life.