TGIF: Favorite School Reads
Friday Feature:
Which book from your school days do you remember reading and enjoying? Is there a book published now that you'd like to see in today's curriculum for kids?
I haven't been doing this blogging thing long enough to go back and revisit a previous TGIF post like the feature says to do, so I thought I'd choose one I didn't participate in and give it a whirl. With school starting just around the corner (and the chaos that is teen services will return after a much needed hiatus), this particular question sparked my interest.
To be honest, I don't look back fondly on most of what I read in school. I think I would have really liked most of what we read if it hadn't been picked apart completely with discussions on symbolism and metaphors (see
Literary Dealbreakers: Part 1
). Despite that, there are several stories that stayed with me or that affected me in some way shape or form as a teenager.
All Creatures Great and Small by James Herriot
This wasn't exactly an assigned reading, but I chose it for one of those programs where you pick a book and take a quiz for points. The picture on the book really says it all. I liked the story of the English veterinarian, but that arm...that arm that reaches inside a cow to deliver a calf...that maybe might have scarred me a bit. At least I definitely realized any type of medical profession was not for me.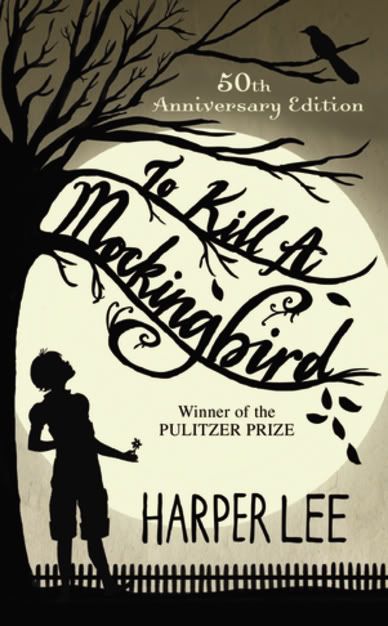 To Kill A Mockingbird by Harper Lee
So this has made it onto one...two...maybe five or more blog posts, but it was, hands down, the assigned reading I enjoyed the most. The story of childhood innocence and perspective is one I've revisited several times, and I'm sure will revisit again.
Native Son by Richard Wright
My junior year I got to choose between Native Son and Of Mice and Men, and of course, in a spark of genius, I chose the nearly 500 page book. This was the first book I remember reading that made a sincere impact. It was also one of the ugliest books I've ever read. It left me embarrassed, sad, and confused. It made me feel, and isn't that one sign of a good book?
As for the second question, what book from today would I like to see on a curriculum? Every book I think of tends to be a dystopia. They have moments of action and moments of thought provoking ideas often relevant to current events. The Hunger Games is slowly making its way onto assigned reading lists across the country, but I'd love to see Neal Shusterman's Unwind and Rash by Pete Hautman make a list or two.