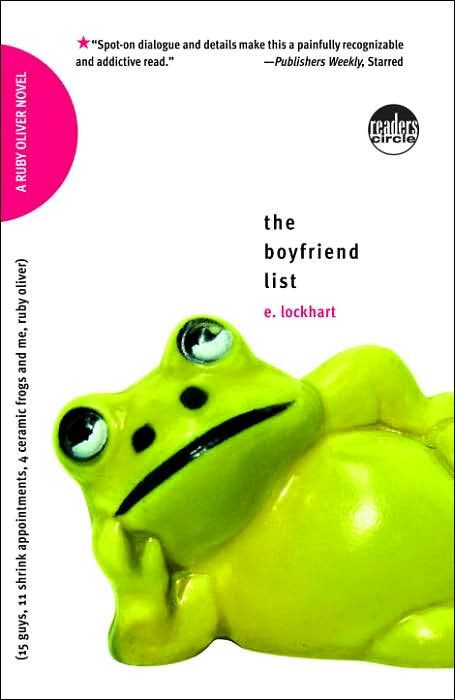 By E. Lockhart
YA LOC
3.5 / 5 Gnomes
Fifteen-year-old Ruby has had a rough ten days. During that time she:

* lost her boyfriend (#13 on the list)
* lost her best friend (Kim)
* lost all her other friends (Nora, Cricket)
* did something suspicious with a boy (#10)
* did something advanced with a boy (#15)
* had an argument with a boy (#14)
* had a panic attack
* lost a lacrosse game (she's the goalie)
* failed a math test (she'll make it up)
* hurt Meghan's feelings (even though they aren't really friends)
* became a social outcast (no one to sit with at lunch)
* had graffiti written about her in the girls' bathroom (who knows what was in the
boys'!?!)

But don't worry—Ruby lives to tell the tale. And make more lists.
~Amazon Description~
Thank goodness I'm out of high school. How I survived in the first place remains a mystery, and I didn't have anything remotely like the experiences of Miss Ruby Oliver. I spent the better part of this week feeling awful for a girl I have never met. Really awful. I wanted to yell at her...I wanted to yell at her friends...I wanted to strangle her parents...and I wanted to start seeing Doctor Z myself.
E. Lockhart definitely knows how to write about awkward situations. I was starting to worry that the teen angst was going to get out of hand, but the miraculous Doctor Z helped Roo (love the nickname by the way) get some perspective. Lockhart is also very clever in her arrangement of a story. The "boyfriend list" as each chapter was brilliant, and she weaves between storytelling and present telling with such ease.
From this moment forward, I dub this the summer of Lockhart. Two books down, five to go.
If you're a fan of witty, realistic, female centric novels along the same lines as Sarah Dessen, Elizabeth Scott, Stephanie Perkins, and Sarah Mlynowski, check out The Boyfriend List by E. Lockhart.